4/17/2010
DREAM SHOW
WEDNESDAY APRIL 21st @ POSTPILSEN
Tracey Trance
Taterbug
SLIME
RRRAINBOW STAR TELEPATHS
Taterbug's my wet cassette dreamboy. Tracey Trance is the most precious guy touring the country these days. Slime is a girrl from Learned Helplessness. Just come on already jeeeeeez
keep on the mossy side,
joseph blanki
4/9/2010
MOSS TAPES GROWPES ALL OVER NITETROTTER
We here at moss tapes are very fond of nitetrotter. We heard about their recording studio in Chicago and cruised down to pilsen to check it out. A few blurry days later these recordings emerged from thee Shwag City Studios. Click on thee links and get thy free tunage.
G.G. Tolltext -
NITETROTTER SESSION
CMI -
NITETROTTER SESSION
MEESTER MAGPIE -
BISHOP EP/NITETROTTER SESSION
Expect more nitetrotter sessions from moss tapes artists and other fantastic bands. Oooh yeah and CMI is performing tonight at 1720 s racine!! The only musician performing besides deeejaaays.
DJ SMALL POX BLANKET,
joseph
4/6/2010
WOOO YEAH! Moss Tapes is releasing the new
Unmanned Ship
Tape! It's gonna be super heavy and super limited. More info soooon.
Just got back from Michigan with another tape dubber and a new Chaka Khan record. REJOICE. I'll be setting up the pages for G.G. Tolltext's audiobook and thee ATF EP tomorrow!
always yers,
joseph blanki
3/31/2010
FRIDAY APRIL 2nd @ Camp Bell
Isa Christ
(Brooklyn, NY)
Kyle Clyde
(Brooklyn, NY)
El is a Sound of Joy
Nude Sunrise
Forbes/Young Duet
Jed Logsdon
8 pm @ Camp Bell
4929 s Campbell
$5 sug don or organs
3/31/2010
DOUBLE RELEASE PARTY TONIGHT!
WEDNESDAY MARCH 31st @ Dr Who's Warehouse of Ideas
Right Now Band
(friends and relatives records)
Nude Sunrise
John Bellows
G.G. Tolltext
"Listen Through a Door" TAPE RELEASE!
meester magpie
"ATF EP release!
ALSO the opening of the Dr Who's Free Store!
Come out and enjoy the weather for an evening of FUN & EXCITEMENT
$3-5 suggested donation
8pm @ Dr Who's Werehouse of Ideas
2605 w Iowa
3/22/2010
Moss Tapes will be at the Pilsen Post March Market on Saturday, March 27th!
Here's the scoop:
This time around, we will be hosting 30 different vendors - selling handmade goods ranging from unique clothing to delicious vegan soup, and everything in between!! There will be free food and drinks all day.
1816 S. Racine St.
FREE!!!!
1pm - 7pm for the market
&&& 8pm - 2am there will be a dance party:
*SUPER SECRET SET* from some super secret Brazillian DJs - you definately want to check it out :)
Clique Talk (DJ Set)
Richard Scarys
plus 1 more TBA
So come out to support local artists and designers at the market, and stay to dance the night away!!
confirmed vendors
______________________
MARSHA SPANIEL
MOSS TAPES
CRAFT NIGHT
KNEE DEEP
Squasht by LES
SARAH NEWMAN
WHITNEY ALLEN
BRIAN STARR
CHASE MARKOVICH
BECKY NIXON
BELINDA COOK
JOY WILLIAMS
SABRINA SEVERNS
REPLICA CHICAGO
PURPLE AND LIME
COLLEEN DAVICK
RACHEL WALLIS
BUGS AND BONES
~ joseph "sailing away" blanki
2/28/2010
I updated the calendar, bucha good shows coming up. Cross reference it to your own!
I know these guys are getting a lil' hyped, but
everythingisterrible.com
is amazing. Their love of editing, VHS, and instructional videos does me gooood. I hear these guys want a VHS preservation society. Now I understand why people think I'm weird with tapes.
~ joseph "i'm done with february" blanki
2/18/2010
HiHo!
Been hiding in basement tape refuge recently. Finishing stock and preparing for new tapes, A LOT MORE TO COME!
Did anyone leave a plastic bag at Camp Bell containing an unopened milk chug, the picture of dorian gray, and a new journal? Well, G.G. chugged the milk but I'd like to return these items to you.
I am sold out of El is a Sound of Joy's Beta Music for Beta People. If yer looking for a copy either talk to the band or get one of the remaining copies from permanent records. They've got a few shows coming up, i'll post those in the calendar when i talk to 'em tonight.
Working on G.G. Tolltext and Territorial Bummer tapes. Should have those ready within the next two weeks. Those G.G. tapes are taking forever but they'll look super nice. yyyooooouuu'll see. Speaking of G.G., he's playing a show tonight for a haiti benefit
THURSDAY FEBRUARY 18TH, 7:30 @ LINKS HALL (3435 N. Sheffield)
Links to Haiti - A Benefit for Partners in Health
Join us for Haitian music, dancing, Moroccan music, treats, mingling, food, more music, art (silent auction), drinks, and fun.
$15. All money goes to Partners in Health.
Featuring:
Adam of Dear Adora
Annie Peacenik
Adam Rose
David Lakein
Rebecca Niziol
Austin Pruett
Aurora Tabar and Sara Thompson
Kate Corby and Dancers
MADD Rythms
Jennifer Karmin
Rocco Granite
Chicago Aissawa
Tamboula Ethnic Dance Company
DoubleDJ
This video is horrendous but this song is sooo good.
no second changes tonight,
joseph blanki
2/1/2010
Wow! Even better, second show blew socks off. They were flying everywhere. That and tractor tires. Wooooo, thanks for coming and making it amazing! The biggest and final show approaches the horizon.
CMI has given us the honor of releasing his first tape, "
Bedroom Rock
." (MOSSTAPES009) Already sold a bunch at shows, sure to sell out fast. Grab the elusive ghost while you still can here or from him on saturday!
blowin' off the winter blues,
joseph blanki
1/26/2010
first show was a great success! Thanks for coming! Moss Tapes is hitting Lincoln Park next, here's the flier:
hope to see ya therrr,
joseph blanki
1/19/2010
MOSS TAPES IS GROWING ALL OVER CHICAGO!
Lots of exciting news. First off, moss tapes has rooted itself in three buildings on three sides of the city the next three saturday nights for art, music, comedy, and theater. I do run on, so here are the facts
SATURDAY JANUARY 23RD @ DR WHO'S WAREHOUSE OF IDEAS (2605 w. iowa st.)
WEST TOWN MOSS TAPES PARTY!!!
featuring
El is a Sound of Joy
Thee RRRainbow Family Band
Penelope Unity
GG Tolltext
The Eric & Steve Band
CMI
its ok
meester magpie
Comedy by Trenton Willey
& "The Madness of Oscar Wilde by Sebastian Melmoth" performed by Glenn Pruett, directed by Patricia Ausuini
SATURDAY JANUARY 30TH @ THE INCONVENIENCE (THREE ZERO THREE SIX N. LINCOLN, FLOOR 2)
NORTH SIDE MOSS TAPES PARTY!!!
featuring
El is a Sound of Joy
Thee RRRainbow Family Band
Penelope Unity
GG Tolltext
The Eric & Steve Band
CMI
its ok
meester magpie
Comedy by Trenton Willey
& "The Madness of Oscar Wilde by Sebastian Melmoth" performed by Glenn Pruett, directed by Patricia Ausuini
SATURDAY FEBRUARY 6TH @ CAMP BELL (4929 S. Campbell)
SOUTH SIDE MOSS TAPES PARTY!!
featuring
Valis
El is a Sound of Joy
Thee RRRainbow Family Band
Apodaca
Penelope Unity
GG Tolltext
The Eric & Steve Band
CMI
its ok
meester magpie
An all night experience with the awe inspiring ZACKO!
& "The Madness of Oscar Wilde by Sebastian Melmoth" performed by Glenn Pruett, directed by Patricia Ausuini
PLUS an exclusive demonstration of BOOM BALL, an original spectator sport invented by G. Vincent Gaulin.
"Camp Bell is conveniently located directly off of the WESTERN ORANGE LINE at 4929 S. Campbell St. You can literally see our house from the platform. One could also take the 49 Western Bus south to 49th street.
We are encouraging people to bring tents and sleeping bags so that you can spend the evening in our GIGANTIC studio space. Some tents will be provided for those of you who want to stay but do not own a tent. Bring warm clothes. There will be a camp fire."
Slight variations but getting bigger each time. Come out to whatever is closest to you. WE ARE GROWING!
TWO NEW RELEASES!
MOSSTAPES007
Following the release and quick disappearance of her first tape, Penelope Unity's second is ready for absorption. The same smoke and fuzz solo choir is now haunted by unearthly organs. (If only she could take these to shows but that's difficult up several flights of stairs) Nourishment is a well cultivated second harvest and a healthy offering. LIMITED TO 50 COPIES. $4
AND
MOSSTAPES008
A voice calls from the wild weirderness. That howl is Wolfman America backed up by his rabid pack The Angels of Terrorism. His is a quiet assault of apocalyptic folk songs and field recorded sound cabins. This single track collection of fourteen songs is sure to drift you down the river to his quiet den. Recorded from May 2009 to January 2010. Arranged and hand packaged by Jody Thatcher. LIMITED TO 16 COPIES. $3
1/5/2010
updated the calendar on the website AND on myspace. That's right, the chicago events link finally WORKS and it's got moss tapes artists playing into march. chchchek it.
In other news, Seattle electrogrime
Kakalac
is playing at Dr Who's Warehouse of Ideas Friday. Also featuring performances by meester magpie, Beyond Nights, and David Diareah. Its a potuck too so either donate or bring some fooooood. 7PM 2605 w iowa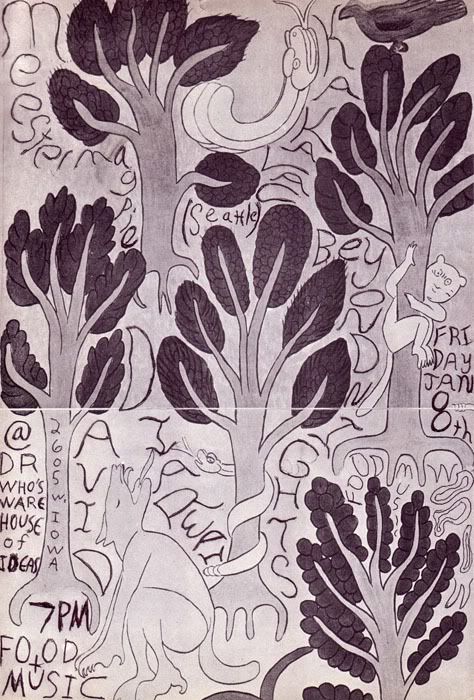 12/18/2099
El is a Sound of Joy TAPE RELEASE SHOW
Proud to announce release 006, El is a Sound of Joy "Beta Music for Beta People", a killer c91. They'll be available for online purchase sometime this weekend. But come pick them up tomorrow at the Bakery!
Unmanned Ship
Chill Fumes
El is a Sound of Joy
Josh Burke
Tasteless Transparent
Penelope Unity
$5 donation
show starts at 8
THE BAKERY, 1854 w 21st Pl
12/7/2099
wooo hooooo news news news
WE GOT SNOW ON THE GROUND!
WE GOT SNOW ON THE GROUND!
wooo hoooooo
agenda:
I while back I was trying to sell a tape to someone and they didn't have a cassette player and wouldn't buy a tape. My friend Duane said this was my fault for not meeting the costumers demands. I'm happy to announce that now moss tapes CAN meet that need. I've got three cassette players for sale, prices, pictures, and info in our photos on our
myspace
. They're really cheap b/c i know nothing about shipping rates right now. So rob my pocket and order a portable cassette player and tape. It'd make me really happy if you lived in the chicago area b/c then i could deliver it on my bike.
~~~~~~~~~~~~~~~~~~~~~~~~~~~~~~~~~~~~~~~~~
~~~~~~~~~~~~~~~~~~~~~~~~~~~~~~
Secondly, moss tapes has been workin with El is the Sound of Joy to release their new album. its lookin like a c90 and should be available for their next show at chicago's favorite bakery in pilsen. That release show will be:
SATURDAY DECEMBER 19TH
UNMANNED SHIP
EL IS THE SOUND OF JOY
JOSH BURKE
TASTELESS TRANSPARENT
PENELOPE UNITY
$5 donation, show starts at 8
THE BAKERY, 1854 w 21st place
hope to see ya there
also looking at 5-6 releases for January and a super release party for all those
L<()><()>K OVVVVVT
11/25/2099
TRADE EMBARGO OF ALTERNATE COLORS OF PALL MALL PACKS HAS BEEN LIFTED. REPEAT: WE NOW ACCEPT TRADES OF ANY COLOR OF PALL MALL BOXES.
In case you weren't aware, moss tapes is very interested and active in trade. As they say, money is the devil. However we also love money because we also love the devil... Anyway, if you or anyone you know smoke Pall Mall brand cigarettes, save the packs and you could get a free tape. One copy of the smash hit tape by Pall Mall, "I Must Be Going", per three Pall Mall cigarette boxes in good condition. If you wanna give me a lot of boxes, I'll give ya smthn real special. We are traders.
On side note, if you haven't read the new Chicago/East Moline blog
NITE TROTTER
, you're foolish. Stop being so foolish.
Happy Thanksgiving,
Joseph Blanki
11/25/2099
yaya MOSSTAPES005 is here! RRRainbow Family's "BACK TO SCHOOL". RRRELEARRRN ALL YOU KNOW. Rather than the electric destruction of their live performances, this is another unique home recording. While ininebriated in a similar fashion to Recreating the Trauma, the RRR's imitate the wind rather than death. Limited to 30 copies, $6, silver and blueee.
OH and meester magpie is playing Black Friday at the Black Lodge withhhhhhhhhhhhhh PLASTIC CRIMEWAVE SOUND, LEGBA BENTONIA, PENELOPE UNITY, BILLY HARRIS - 1742 N. Milwaukee Ave
11/15/2099
HOW I'VE MISSED YOU ALL. In my digital absence I have discovered two now items! I got a carton of PALL MALL's new album "I Must Be Going!" Filled with minimalist pop-gems that'll keep you dancing and chain-smoking. Priced at a bargain $2! There's also a barter special on this one. If you trade three empty pack of Pall Mall's, in good condition, I'll give you a free PALL MALL tape. In other words, I NEED empty Pall Mall cigarette packs. If you or anyone you know smoke these fine cigarettes, please SAVE SAVE SAVE the packs.
Item number two is Penelope Unity's debut tape, GATE OF THE CYCLE. Filled with subterranean howling and clinking, its a smoky black mass. limited to 20 copies, four bucks. I think we've only got 14 left at this point and soon to be much less after distro.
oh god, and the Curanderos Family of the RRRainbow Temple-Monsters are playing friday at Ruben's Palace and moss tapes will be there. Also playing are Centipede Eest, Black Wyrm Seed, and VEE DEE. Come say aloha and freak out.
diving deep again,
~ joseph blanki
10/4/2099
One day, one life cycle for a small percent of living creatures. In this time we have uncovered two items for your tactile delight. Our first two releases are an old tape of meester magpie's titled "Music For... Vol. 1" and RRRAINBOW FAMILY's "Recreating the Trauma". An old ep unearthed from meester magpie, "Music For... Vol. 1" packs roughly 23 minutes of noise and 44 minutes of ambiance in cassette form. RRRAINBOW FAMILY's joyous rerelease of "Recreating the Trauma" terrifies the civilized notions in yer foremind, unbuckles yer boots, rattles yer fillings, and deserts ya dirty body on the street in a daze of delirium.
crawling for the door,
~ joseph blanki
10/3/2099
From our moist patch of soil in Chicago we nurse the music of the future. Our goal is to lift rocks, search behind alleys, and trudge down by rivers to shed light on what is growing in this city and elsewhere. We will preserve our findings, nurture them, and present them to you complete with their very own life support vessel.
MOSSTAPES CHI' WEIRDNESS 2099